Distinguished Laundry Giant Buying Press from AP&T.
When household appliance manufacturer Alliance decided to modernize its ­factory in the Czech Republic, its press of choice was one from AP&T. Alliance is one of the world's largest manufacturers of laundry equipment for large-scale households and industry. Competition in the sector is stiff and demands on robust products are great.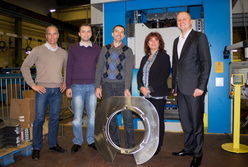 Alliance has invested in an ODEN-F-5000-16/13 with press force of 5,000 kN (562 US tons) and a bolster size of 1,600×1,300 mm (63.0″×51.2″). The press will be part of the company's new ­product line for industrial washing machines, and it will manufacture 24 different parts. With the new press, Alliance will achieve major efficiency gains during tool changes. ODEN's automatic tool clamping system with pre-set tools results in both quick and safe changes.
"Thanks to automation and precision during tool changes, work is less dependent on the operator, and repetition accuracy is improved. This means fewer deviations and less rejection," says Mikael Bramstedt, who is the technical sales manager and person in charge of the Alliance transaction at AP&T.
By switching to the new press, Alliance will be able to increase efficiency in line with the lean work the company continuously focuses on in its production.
"The efficiency gains are very important to us. We also appreciate the improved ergonomics and safety the new press offers. The pre-set tools and the press' safety functions, such as automatic shut down if ­someone enters the safety zone, reduce the risk of injury and potential operating errors," says Petr Matejka, a development engineer from Alliance, in conjunction with training and testing of the new press at AP&T in Tranemo, Sweden.
Product Quality and a Smooth Purchasing Process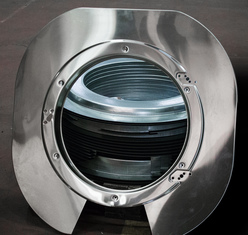 Alliance contacted several suppliers during the tendering stage. According to Petr Matejka, AP&T was selected for several reasons. "First of all, the machines are well built with parts from well-known top-quality brands. It was also a major advantage that AP&T can offer service and training locally at our factory. I also appreciate that the purchasing process itself was so smooth, and that AP&T was so responsive to our needs," says Petr.
AP&T has extensive experience from the household appliance industry and was able quickly to understand Alliance's process and needs. The local salesperson, Slawomir Grabowski, in neighboring Poland and Mikael Bramstedt from AP&T in Sweden traveled to visit the customer at its premises.
"Not long after we met at the factory in Pribor, Czech Republic, we forwarded a proposal we thought would suit Alliance. It turns out that we had understood Alliance's needs correctly," says Mikael Bramstedt.
The new press will enable Alliance to streamline and improve the quality of its own products through ­production precision, as well as give the company the power to expand.
"Obtaining a new press of this caliber is one of many important steps we are taking to reinforce our position in the market. This is a major investment, but we can't reach our goals without investing," says Petr Matejka.
About Alliance
Alliance is one of Europe's leading manufacturers of laundry equipment for large-scale households and the laundry industry. The company's products include industrial washing machines, dryers, ironing and mangling equipment, dry cleaning machinery and drying cabinets. Alliance's headquarters are located in Wevelgem, Belgium where the company was founded in 1911. It has production in the Czech Republic, U.S. and China. The company has several sales offices around the world.