[two_third last="no" spacing="yes" background_color="" background_image="" background_repeat="no-repeat" background_position="left top" border_size="0px" border_color="" border_style="" padding="" class="" id=""][fusion_text]Amada America has published their Total Solutions magazine for the first quarter of 2015. The full digital magazine can be found here: http://www.amada-america.com/Total_Solutions_Q1_2015/ I would be very grateful if anyone has a link to a PDF version of this publication as the online reader is not the best.
Some of the highlights:
General A&E, a fabricator out of Hackensack NJ, is claiming 60% increases in production after the installation of Amada's LC 2012 CI punch/laser combination machine.
A general review of Amada's punch press offerings, AE NT, EM ZRT and EMK M2.
Highlights of the LC 2525 C1 AJ combination punch laser machine, the EG 6013 AR robotic bending cell, and the HG 1003 press brake with automatic tool change.
Case study of the HD ATC and how it reduced setup times for Cortec, a fabricator in San Jose CA.
Feature on Amada's tooling identification system for punch presses and how it can better control maintenance.
[/fusion_text][/two_third][one_third last="yes" spacing="yes" background_color="" background_image="" background_repeat="no-repeat" background_position="left top" border_size="0px" border_color="" border_style="" padding="" class="" id=""][imageframe lightbox="no" style_type="none" bordercolor="" bordersize="0px" borderradius="0″ stylecolor="" align="center" link="" linktarget="_self" animation_type="0″ animation_direction="down" animation_speed="0.1″ class="" id=""]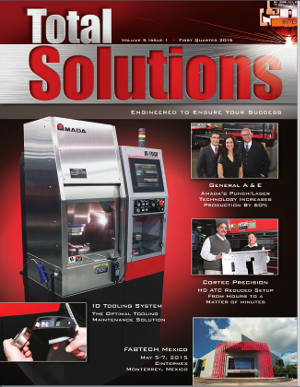 [/imageframe][/one_third]