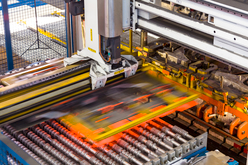 U.form, a new company, is investing EUR 30 million in a new plant in Castellato on the east coast of Italy. The goal is to strengthen its position as a supplier to the automotive industry, and part of the investment is a complete production line for press hardening. When looking for the right supplier, the order went to AP&T.
As a separate order from Susta SRL, AP&T will also deliver a press hardening tool to be run in the U.form line. The tool will be designed to produce tailor-welded elements for passive safety, which are press hardened to obtain specific deformation properties in case of an accident.
Susta SRL's customers include BMW and Fiat, and it is Fiat's commitment to update the Alfa Romeo brand that is behind the need for the press-hardened parts that will be produced in the U.form facility. The new model, Alfa Romeo 952, will make great strides in terms of reduced weight and increased safety. Press hardening enables structure parts that give better crashworthiness and passive safety performance.
The AP&T delivery will result in a complete turnkey production line for press hardening, including design, manufacturing, installation and commissioning. The proposed system is designed for automatic handling – from sheet metal to formed parts – based on AP&T's proven modular concept.
In short, the press line consists of:
Destacking and centering station
Gas powered roll furnace
3 axis press loading SpeedFeeder transfer
Standard ODEN-FT press
3 axis SpeedFeeder for unloading
Line control system with one main control panel for operating the complete line
The ODEN-FT press is equipped with a high-speed hydraulic system, and the linear automation system will allow for very high speed and good stability. The line is designed to offer a high degree of flexibility to produce a wide range of automotive parts.
The line will be delivered and ready for serial production by the end of 2015.