Sectionalized tooling is used to form internal features with a continuous row of brake press tooling. This eliminated defects caused by improperly spacing tooling.  Both punchs and dies can be sectionalized.  Typically they are split at the same lengths for ease of mixing and matching.
Standard break down of tooling:
3.937" (100 mm) Left and Right Ear
.394" (10 mm)
.591" (15 mm)
.787" (20 mm)
1.575" (40 mm)
1.969 " (50 mm)
7.874" (200 mm)
11.810" (300 mm)
In addition most manufacturers offer a 16.34" (415 mm) 'Short' Section and a 32.87" (835 mm) 'Long' Section.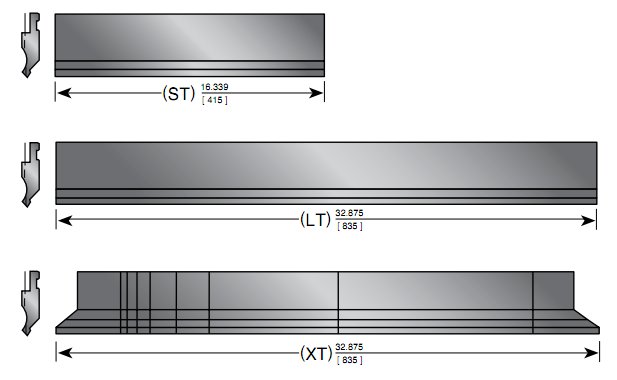 Horn Punches
A horn, ear, dog leg punch all refer to the punches which are relieved for bending parts which have return flanges on the sides of the part.  The punches allow a clearance, similar to window punch which allows you to bend closed in boxes.  Typically every sectionalized set will contain a left and a right horn.  These punches can be further relieved for special application though this increases the risk of crowning on the extended edge and may necessitate shimming.