[fusion_text]
Introducing Xpert 40 – an ultra high-speed, portable press brake. Bending on demand, where and when you need it.
Bystronic Inc. introduces the new Xpert 40, a compact portable high-speed press brake that is moveable to where you need it, when you need it, which is ideal when space is limited and capacities vary. With its integrated tool storage, Xpert 40 is the first press brake to combine the entire setup and production from a single station, greatly reducing non-productive bending times.[/fusion_text][two_third last="no" spacing="yes" background_color="" background_image="" background_repeat="no-repeat" background_position="left top" border_size="0px" border_color="" border_style="" padding="" class="" id=""][fusion_text]
Xpert 40 – The fastest press brake of its size on the market!
Bends per Hour (BPH)
Typical press brake production = 622 BPH
Typical High Dynamic Electric or Hybrid press brake production = 916 BPH
Xpert 40 production = 1,028 BPH
Fiber lasers have increased demand on downstream material processing because they are capable of producing parts about twice as fast as the classic CO2 laser cutting machine. Super high speed, back gauge and ram ensure the highest production efficiency, enabling the Xpert 40 to easily keep pace with today's increasingly popular high speed Fiber laser cutting machines.
The ultra-high performance back gauge system, with up to a 6-axis, enables the cost-efficient production of highly complex sheet metal shapes. High operator efficiency is also achieved through ergonomic design and individually adaptable workspace. Noteworthy is the process-controlled drive unit which reduces power consumption by up to 30 percent!
With its flexible tool selection and a press capacity of up to 44 US tons, this machine offers a wide range of applications from thin and thicker materials and the ultra-high performance back gauge system.
.[/fusion_text][/two_third][one_third last="yes" spacing="yes" background_color="" background_image="" background_repeat="no-repeat" background_position="left top" border_size="0px" border_color="" border_style="" padding="" class="" id=""][imageframe lightbox="no" style_type="none" bordercolor="" bordersize="0px" borderradius="0″ stylecolor="" align="none" link="" linktarget="_self" animation_type="0″ animation_direction="down" animation_speed="0.1″ class="" id=""]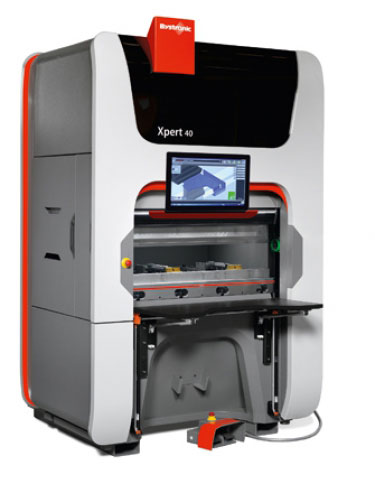 [/imageframe][fusion_text]Xpert 40 press brake maintains the pace with the Fiber laser cutting machine.[/fusion_text][/one_third][one_third last="no" spacing="yes" background_color="" background_image="" background_repeat="no-repeat" background_position="left top" border_size="0px" border_color="" border_style="" padding="" class="" id=""][imageframe lightbox="no" style_type="none" bordercolor="" bordersize="0px" borderradius="0″ stylecolor="" align="none" link="" linktarget="_self" animation_type="0″ animation_direction="down" animation_speed="0.1″ class="" id=""]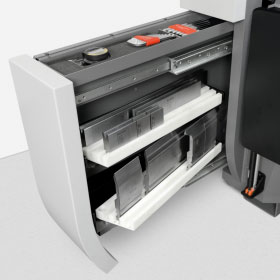 [/imageframe][fusion_text]Integrated flexible tooling station greatly reduces non-productive bending time.[/fusion_text][/one_third][one_third last="no" spacing="yes" background_color="" background_image="" background_repeat="no-repeat" background_position="left top" border_size="0px" border_color="" border_style="" padding="" class="" id=""][imageframe lightbox="no" style_type="none" bordercolor="" bordersize="0px" borderradius="0″ stylecolor="" align="none" link="" linktarget="_self" animation_type="0″ animation_direction="down" animation_speed="0.1″ class="" id=""]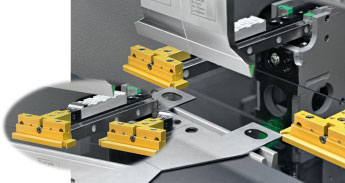 [/imageframe][fusion_text]Ultra-high performance back gauge system with up to a 6-axis for cost-efficient production of highly complex sheet metal shapes.[/fusion_text][/one_third][one_third last="yes" spacing="yes" background_color="" background_image="" background_repeat="no-repeat" background_position="left top" border_size="0px" border_color="" border_style="" padding="" class="" id=""][imageframe lightbox="no" style_type="none" bordercolor="" bordersize="0px" borderradius="0″ stylecolor="" align="none" link="" linktarget="_self" animation_type="0″ animation_direction="down" animation_speed="0.1″ class="" id=""]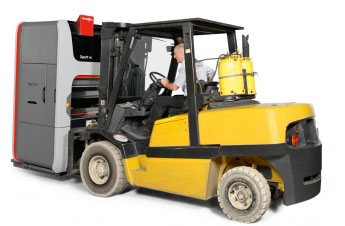 [/imageframe][fusion_text]Movable on demand to temporary locations. No dismounting. No leveling. Just Plug-n-Bend.[/fusion_text][/one_third]